Batrachotrema nagalandensis (Tandon, Imkongwapang et Prasad Tandon, Imkongwapang et Prasad)
---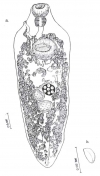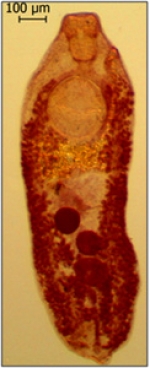 Taxonomy
Platyhelminthes »
TREMATODA »
Digenea »
Opecoelidae Ozaki, 1925 »
Batrachotrema Dollfus et Williams, 1966 »
Batrachotrema nagalandensis, Tandon, Imkongwapang et Prasad 2005
Host
Amolops (marmoratus (A. afghanus)), Rana (khare)
Habitat
Intestine
Locality
Mokokchung (Nagaland)
Description
Body elongated or some what spindle-shaped, broadest at shoulder, tapering and terminating bluntly towards anterior and posterior regions, 2.38-3.89 mm in length, 0.80-1.27 mm in maximum width at level of ventral sucker; surface devoid of any spine. Oral sucker sub-terminal, round. Ventral sucker pre-equatorial located in broader part of body, 3 times larger than oral sucker, covering half of body in width, strongly muscular. Pre-pharynx indistinct; pharynx muscular, oesophagus of moderate length or short, intestinal caeca reaching near posterior end. Testes rounded or oval, lying in tandem in middle third of body; anterior testis in level of ovaries, slightly smaller in size than posterior, cirrus sac long, extending posteriorly beyond ventral sucker, lying on its left side, extending up anteriorly and ending in level with pharynx. Ovaries rounded, pre-testicular, post acetabular; oviduct, Mehlis' gland complex in region anterior to ovary, uterine coils mainly limited in ovarian and post-acetabular area overlapping intestinal caeca. Genital pore at left side of body, marginal or sub-marginal, male and female pores opening into genital atrium. Vitellaria follicular, extending from level of intestinal bifurcation up to posterior most of body, overlapping intestinal caeca, also scattered in intercaecal fields. Eggs 0.036 x 0.022 mm, large, oval, numerous.
Remarks
In having a pre-testicular ovary, which is nearer to the anterior testis then the ventral sucker and the genital pore lying laterally to the median line in level with the pharynx, the present forms bear a close morphological resemblance to the genus Batrachotrema. Dollfuss and Williams,(1966) proposed a new family Batrachotrematidae for the genus. Yamaguti (1971) retained the family as proposed by Dollfus and Williams and Wang (1980) also accepted its validity. However, Prudhoe and Bray (1982), on the basis of its close relationship with the members of Opecoelidae, placed the genus under the latter family.
The genus Batrachotrema so far includes five species: B. petropedetis Dollfus and Williams, 1966 from Petropedetis natator in Sierra Leone, Africa; B. pseudobagri Wang, 1981 (from Pseudobagrus fulvidraconis and Pseudogastromyzons zebroidus in Fujian Province, China); B. yaanensi Zhang and Sha, 1985 (from Rana Phrynoides in Yaan, Sichuan, China); B. opistosacca Liang and Ke, 1988 (Rana spinosa in Meixian, Guangdong, China); B. vietnamensis Moravec and Sey, 1989 (from Rana kuhlii in Hanoi, Vietnam)
A comparison of the present form with the type species reveals several differences between the two. In the present form the testes lie in the middle third of the body, and the cirrus sac is long extending posteriorly beyond the ventral sucker. In the type species the testes are located much posteriorly and the claviform cirrus sac is quite small extending posteriorly only up to the anterior margin of the ventral sucker. Both B. petropedetis and B. opistosacca have an elongated oval body shape and have intestinal caeca extending posteriad a little beyond the testes. In having a fusiform body, the present form resembles B. pseudobagri, a species described from piscine hosts, but distinctly differs from it in having alarger body size, a rounded ovary (lobate in B. pseudobagri); and along cirrus sac that extends posteriad much beyond the ventral sucker. In possessing an unspined body, testes situated in the middle third of the body and immediately pretetsicular ovary that is not separated from testes by uterine coils, the present form comes close to B. petropedetis, B. pseudobagri and B. opistosaccaand stands apart from B. yaanensis and B. vietnamensis. In view of the apparent morphological differences and also different amphibian host species the present form is considered a new species under the genus Batrachotrema. It is for the first time that a representative of the genus is being reported from the Indian subcontinent.
Etymology: Named after Nagaland state, India.
Helminthological collections record
NEHU/Z - TA/11
Specimen Type
Holotype: W8338/1, 8339/1, 8340/1 in Zoological Survey of India, Kolkata.
References