Bourgelatia diducta (Railliet, Henry et Bauche Railliet, Henry et Bauche)
---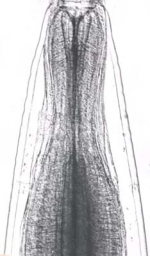 Taxonomy
Nematoda »
SECERNENTEA »
Chabertiidae (Popova, 1952) Lichtenfels, 1980 »
Oesophagostominae Railliet, 1916 »
Bourgelatia Railliet, Henry et Bauche, 1919 »
Bourgelatia diducta, Railliet, Henry et Bauche 1919
Host
Sus (scrofa domestica)
Habitat
Caecum, colon
Locality
Shillong (Meghalaya), Nongstoin (Meghalaya), Markasa (Meghalaya), Mairang (Meghalaya), Sohiong (Meghalaya)
Description
GeneralÂ
Small-sized worms, milky white in colour. Mouth directed straight forwards. Cuticle with well marked transverse striations throughout length of body. One pair of cervical papillae symmetrically placed near middle of oesophagus. Two sets of corona radiatae present, external composed of twenty one large pointed elements, internal having same number of bifid elements Buccal capsule shallow, cylindrical, more wide than deep, its wall thick, composed of two pondions-anterior ring shaped, surrounding basis of leaf crown posterior more or less continuous with cuticular lining of wide shallow oesophageal funnel. Oesophagus swollen posteriorly with trivalved apparatus at its base.
Male
Body 8.0-10.0 mm in length, 0.41-0.50 mm in maximum width. Bursa well developed, with bursal rays at posterior end of body, incised near tips of ventral rays, giving appearance of a pair of additional lobes; ventral rays cleft to base, parallel and closely applied to each other, antero-lateral ray somewhat shorter than, but not divergent from, remaining lateral rays; externo-dorsal short, originating high up on main dorsal stem; dorsal ray short, bifurcated deeper than proximal branches. Genital cone pointed with large papilla on each side of its base, but ill defined. Spicules long, equal having transverse alae. Gubernaculum indistinct.
FemaleÂ
Body 10.0-12.0 mm long, 0.46-0.55 mm in maximum width. Posterior extremity straight, ending in sharp point. Caudal papillae one pair, symmetrically placed near tip. Vulva opening near anus. Vagina short, uterine branches parallel; ovejectors J-shaped, usually laden with three mature eggs. Eggs thin shelled, segmented.
Remarks
This species was originally recorded from Assam, has also been recorded in other regions of India from Bengal (Maplestone, 1930) and Kerala (Thomas and Peter, 1975 ).
The present observations tally more or less with those of Railliet et.al. (1919) and Maplestone,(1930) except for minor variation in the position of caudal papillae in females; Räilliet et al.(1919) mentioned these to be placed asymmetrically. The species is of rather rare occurrence in pigs of India.
Helminthological collections record
NEHU/Z - NM/11
References