Bunostomum trigonocephalum (Railliet Railliet) Rudolphi 1808
---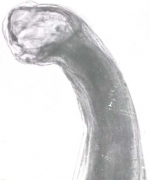 Taxonomy
Nematoda »
SECERNENTEA »
Ancylostomatidae (Looss, 1905) Lichtenfels, 1980 »
Bunostominae (Railliet et Henry, 1909) Looss, 1911 »
Bunostomum Railliet, 1902 »
Bunostomum trigonocephalum (Rudolphi 1808), Railliet 1902
Synonyms
(Strongylus trigonocephalus Rudolphi, 1808; B. kashinathi Lane, 1917)
Host
Capra (hircus)
Habitat
Small intestine
Locality
Shillong (Meghalaya), Nongstoin (Meghalaya), Jowai (Meghalaya), Markasa (Meghalaya), Sohiong (Meghalaya)
Description
Worms considerably big in size. Anterior end bent dorsally, so that buccal capsule opens antero-dorsally. Buccal capsule relatively large, infundibular, bearing at its base strong dorsal tooth, with large cone projecting into buccal cavity; dorsal gutter running along tooth, carrying duct of dorsal oesophageal gland; ventral margins of capsule bearing pair of chitinous plate; lancets comprising two pairs, one ventral, other sub-ventral, former pair lying near opening of oesophagus, latter in lateral walls of capsule. Oesophagus club shaped. Cervical papillae little behind anterior end of body. Nerve ring at level of cervical papillae.
Male
Body 12.0-16.0 mm in length, 0.36-0.41 mm in maximum width. Bursa well developed with asymmetrical dorsal lobe; right externo-dorsal ray long, slender, arising high up on main dorsal stem; left externo-dorsal much shorter, arising at about level of bifurcation of dorsal ray; dorsal ray with tri-digitate terminations; postero-lateral and medio-lateral rays fused in their terminal portions, separated distally; ventral, externo-dorsal and lateral rays arising from large common trunk; ventral ray cleft. Spicules slender, alate, slightly twisted. Gubernaculum absent.
Female
Body 18.0-26.0 mm in length, 0.57-0.68 mm in maximum width. Tail tapering to point, bearing pair of papillae just little short of its tip. Vulva not so prominent, lying little ahead of middle of body. Vagina short, followed by uterine vagina forming part of ovejector; sphincter present at junction of uterine vagina and ovejector. Eggs with bluntly rounded ends, 0.06-0.08 x 0.04-0.05 mm.
Remarks
Lane(1917) described a new species B. kashinathi, from goats in Darjeeling district of Bengal and differentiated it from B. trigonocephalum only on the basis of the shape of the buccal capsule. However, Yorke and Maplestone (1926) considered B. kashinathi a synonym of B. trigonocephalum.
The present observations tally closely with the description provided by Baylis (1936a) except for minor difference in the length of spicules.
Helminthological collections record
NEHU/Z - NM/21
References