Calicophoron calicophorum (Näsmark Näsmark) Fischoeder 1901
---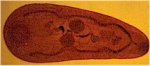 Taxonomy
Platyhelminthes »
TREMATODA »
Digenea »
Paramphistomidae Fischoeder, 1901 »
Paramphistominae Fiscoeder, 1901 »
Calicophoron Nüsmark, 1937 »
Calicophoron calicophorum (Fischoeder 1901), Näsmark 1937
Synonyms
(Paramphistomum calicophorum Fischoeder, 1901; P. crassum Stiles et Goldberger, 1910; P. cauliorchis Stiles et Goldberger, 1910; P. ijimai Fukui, 1922; P. (cauliorchis) skrjabini Popova, 1937; P. erschovi Davydova, 1959; Calicophoron orientalis Mukherjee, 1966; C. wuchengense, Wang, 1979; Cotylophoron skrjabini Mitskevich, 1958)
Host
Bos (indicus), Bubalus (bubalis), Capra (hircus), Ovis (aries)
Habitat
Rumen
Locality
Guwahati (Assam), Silchar (Assam), Moranhat (Assam), Silchar (Assam), Karimganj (Assam), Shillong (Meghalaya), Jowai (Meghalaya), Nongstoin (Meghalaya), Tura (Meghalaya), Kohima (Nagaland), Aizawl (Mizoram), Dharmanagar (Tripura), Agartala (Tripura)
Description
Body elongated, slightly bent ventrally, 7.05-11.39 mm in length, 4.06-4.65 mm in width, ratio of body width to body length 1:1.73-1:2.47. Acetabulum sub-terminal, 1.80-2.12 mm in external diameter; ratio to body length 1:3.91-1:5.72; of calicophoron type (sensu Näsmark, 1937) in median sagittal section; units of circular muscles on lateral sides as follows d.e.c.m. 16-20, d.i.c.m. 33-39, v.e.c.m. 18-22, v.i.c.m. 37-41, m.e.c.m. 10-16. Pharynx 0.76-0.90 mm in length, 0.63-0.81 mm in breadth; ratio to body length 1:9.27-1:14.0, to diameter of acetabulum 1:2.35-1:2.44, of calicophoron type (sensu Dinnik, 1964) in median sagittal section. Oesophagus 0.49-0.72 mm long, no bulb or posterior sphincter. Caeca on lateral fields, forming few irregular dorso-ventral bends. Testes lobed, tandem; anterior testis 0.90-1.22 mm in length 0.99-1.26 mm in width; posterior testis 0.85-1.22 mm in length, 0.87-1.17 mm in width. Seminal vesicle thin walled, coiled; pars musculosa well developed, pars prostatica long, well developed. Ovary 0.40-0.58 mm by 0.31-0.40 mm, posterior to posterior testis, close to Mehlis' gland. Laurer's canal crossing excretory vesicle or duct, opening on dorsal surface posterior to excretory pore. Vitellaria in lateral fields, extending from level of pharynx to acetabulum. Eggs 0.108-0.135 by 0.063-0.081 mm. Terminal genitalium of calicophoron type (sensu Näsmark, 1937) in median sagittal section, genital pore opening at level posterior to oesophageal bifurcation.
Remarks
Of the paramphistomid species reported so far from India, Paramphistomum crassum and P. cauliorchis described by Stiles and Goldberger (1910) from Bos indicus were moved to the genus Calicophoron by Näsmark (1937). Mukherjee and Chauhan (1965) considered P. crassum synonymous with C. calicophorum, while Yamaguti(1958, 1971) listed both as separate species under Calicophorn. On a re-examination of the type specimens of Stiles and Goldberger's species deposited in the United States National Parasite Collection, Eduardo (1983) opined that both species be regarded as synonyms of C. calicophorum, as their differential characters (namely, the size and position of the testes) could be attributed to their being immature. He also suggested that C. orientalis, described from goats in India by Mukherjee (1966b) falls in synonymy with C. calicophorum, since Mukherjee's differentiation of the two species was based only on slight difference in the size of the body and its organs.
The species, C. calicophorum has been previously reported from several localities in India, viz., Jammu and Kashmir (Bali, 1976), Chandigarh and Uttar Pradesh (Gupta and Nakhasi, 1977), Andhra Pradesh (Hafeez and Rao, 1980) and Himachal Pradesh (Tandon and Sharma, 1981). Eduardo (1983) also mentioned the occurrence of this species from Axis axis in India.
Helminthological collections record
NEHU/Z - TM/7
Specimen Type
Holotype: W7795/1 in Zoological Survey of India, Kolkata.
References