Cotylophoron cotylophorum (Stiles et Goldberger Stiles et Goldberger) Fischoeder 1900
---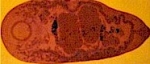 Taxonomy
Platyhelminthes »
TREMATODA »
Digenea »
Paramphistomidae Fischoeder, 1901 »
Paramphistominae Fiscoeder, 1901 »
Cotylophoron Stiles et Goldberger, 1910 »
Cotylophoron cotylophorum (Fischoeder 1900), Stiles et Goldberger 1910
Synonyms
(Paramphistomum cotylophorum Fischoeder, 1901; Cotylophoron guangdongense Wang, 1979)
Host
Bos (indicus), Bubalus (bubalis)
Habitat
Rumen
Locality
Guwahati (Assam), Shillong (Meghalaya), Dharmanagar (Tripura)
Description
Body elongated, 5.24-7.91 mm in length, 2.62-4.06 mm in maximum width, ratio of body width to body length 1:1.82-.1:2.18. Acetabulum 1.53-1.89 mm in external diameter; ratio to body length 1:3.16-1:4.49; of cotylophoron type (sensu Näsmark, 1937) in median sagittal section; units of dorsal and ventral circular muscles on lateral sides as follows : d.e.c.m. 14-20, d.i.c.m. 38-42, v.e.c.m. 12-16, v.i.c.m. 38-44. Pharynx 0.58-0.76 mm in length, 0.54-0.67 mm in breadth; ratio to body length 1:7.27-1:10.30, to diameter of acetabulum 1:2.18-1:2.64; of calicophoron type (sensu Dinnik, 1964) in median sagittal section. Oesophagus 0.34-0.54 mm in length, ratio to body length 1:12.56-1:17.57, musculature of its wall forming strong posterior bulb. Caeca in lateral fields forming dorso-ventral bends, reaching level of acetabulum. Testes lobed, tandem, anterior testis 0.58-0.99 in length, 0.72-1.62 mm in width; posterior testis 0.76-1.03 mm in length, 0.72-1.80 mm in width. Seminal vesicle coiled; pars musculosa well developed, pars prostatica weakly developed. Ovary 0.31-0.45 mm by 0.40-0.49 mm, posterior to testes, close to Mehlis' gland. Laurer's canal crossing excretory vesicle or its ducts, opening dorsally posterior to excretory pore. Vitellaria in lateral fields, from level of pharynx to acetabulum. Eggs 0.108-0.140 mm by 0.054-0.067 mm. Terminal genitalium of cotylophoron type (sensu Näsmark, 1937) in median sagittal section, opening ventrally at level posterior to oesophageal bifurcation.
Remarks
Several of the species originally described from Indian ruminants under the genus Cotylophoron, viz., C. indicum Stiles et Goldberger, 1910; C. madrasense Gupta, 1958; and C. chauhani Gupta et Gupta, 1972 are regarded as synonymous with Paramphistomum epiclitum. The species status of C. ottoi Gupta et Bakhshi in Gupta and Nakhasi, (1977), described from cows and buffaloes in India, remains uncertain (Eduardo, 1985a) as its description lacks diagnostic details. Further, of the three species described by Harshey (1934) C. ovatum was removed from the genus, in not having Laurer's canal crossing the excretory vesicle or its duct, to Ceylonocotyle (now a synonym of Orthocoelium) by Mukherjee and Chauhan (1965), while the other two, i.e., C. orientalis and C. elongatum, were regarded as synonyms of C. indicum Stiles et Goldberger, 1910 (now Pramphistomum epiclitum) by these authors. While agreeing to the synonymy of C. ovatum with Orthocoelium scoliocoelium, Eduardo (1985b) regarded the other two species as species inquirenda.
C. cotylophorum has a wide distribution in cattle, sheep and goats of India. The species has earlier been described from Uttar Pradesh (Mudalier, 1945), Jammu & Kashmir (Bali, 1976), Calicut (Gupta and Nakhasi, 1977) and Andhra Pradesh (Hafeez and Rao, 1980).
Helminthological collections record
NEHU/Z - TM/9
Specimen Type
Holotype: W7793/1 in Zoological Survey of India, Kolkata.
References