Fischoederius cobboldi (Stiles et Goldberger Stiles et Goldberger) Poirier 1883
---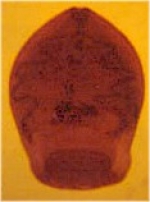 Taxonomy
Platyhelminthes »
TREMATODA »
Digenea »
Gastrothylacidae Stiles et Goldberger, 1910 »
Gastrothylacinae Stiles et Goldberger, 1910 »
Fischoederius Stiles et Goldberger, 1910 »
Fischoederius cobboldi (Poirier 1883), Stiles et Goldberger 1910
Host
Bos (indicus), Bubalus (bubalis), Capra (hircus), Ovis (aries)
Habitat
Rumen
Locality
Guwahati (Assam), Shillong (Meghalaya), Tura (Meghalaya), Jowai (Meghalaya), Dharmanagar (Tripura)
Description
Body elongated, 7.77-17.71 mm in length, 5.65-8.40 mm in width, ratio of body width to body length 1:1.37-1:2.13. Ventral pouch present, reaching up to level of ovary or testicular region. Acetabulum terminal, 3.25-5.65 mm in external diameter; ratio to body length 1:2.39-1.3.88; of gastrothylax type (sensu Näsmark, 1937) in median sagittal section; units of dorsal and ventral circular muscles in lateral sides as follows : d.e.c.m. 89-107, d.i.c.m. 85-91, v.e.c.m. 91-99, v.i.c.m. 78-89. Pharynx 0.67-0.99 mm in length, 0.76-0.93 mm in breadth; ratio to body length 1:11.59-1:17.88, to diameter of acetabulum 1:4.06-1:5.70; of calicophoron type (sensu Dinnik, 1964) in median sagittal section. Oesophagus 0.81-1.35 mm in length, 's'-shaped. Caeca reaching up to anterior border of acetabulum. Testes irregular, tandem, in pre-acetabular median field; anterior testis 0.67-2.75 mm in length, 0.85-4.06 mm in width; posterior testis 0.63-2.03 mm in length, 1.31-4.38 mm in width. Ovary 0.90-1.13 mm by 0.45-1.22 mm. Vitellaria sparsely scattered follicles in ventro-lateral regions, extending from level of oesophageal bifurcation to anterior margin of acetabulum. Terminal genitalium of microbothrium type (sensu Näsmark, 1937); genital pore pre-bifurcal.
Remarks
F. cobboldi has also been reported from various places from India such as Bengal and Assam (Mukherjee and Chauhan, 1965), Madras and Bombay (Gupta and Dutta, 1967a), and Andhra Pradesh (Hafeez and Rao, 1980).Â
The present observations tally to a great extent with those of Sey (1983) and other Indian authors. However, a great deviation from Näsmark's (1937) and Gupta and Dutta,'s (1967b) observations has been found with regard to acetabular circular muscles units.
Helminthological collections record
NEHU/ - TM/24
Specimen Type
Holotype: W7757/1 in Zoological Survey of India, Kolkata.
References