Gastrodiscoides hominis (Leiper Leiper) Lewis et McConnell 1876
---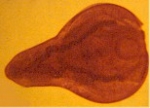 Taxonomy
Platyhelminthes »
TREMATODA »
Digenea »
Paramphistomidae Fischoeder, 1901 »
Gastrodiscinae Monticelli, 1892 »
Gastrodiscoides Leiper, 1913 »
Gastrodiscoides hominis (Lewis et McConnell 1876), Leiper 1913
Synonyms
Gastrodiscus hominis Fischoeder, 1902
Host
Sus (scrofa domestica)
Habitat
Intestine
Locality
Guwahati (Assam), Silchar (Assam), Shillong (Meghalaya), Tura (Meghalaya), Aizawl (Mizoram), Agartala (Tripura)
Description
Body pyramidal, divided into anterior conical and posterior discoidal regions, 6.41-8.04 mm in length, 4.29-5.42 mm in width, ratio of body width to body length 1:1.42-1:1.58. Acetabulum sub-terminal or ventral, 1.49-2.03 mm in external diameter; ratio to body length 1:4.30-1:5.08; of watsonius type (sensu Näsmark, 1937) in median sagittal section; units of circular muscles in lateral sides as follows d.e.c.m. 36-48, d.i.c.m. 25-26, v.e.c.m. 13-18, v.i.c.m. 12-20, m.e.c.m. 11-16. Pharynx 0.63-0.85 mm in length, 0.67-0.90 mm in width; ratio to body length 1:9.45-1:10.66, to diameter of acetabulum 1:1.85-1:2.36; of watsonius type (sensu Näsmark, 1937) in median sagittal section. Oesophagus 0.76-1.26 mm long, oesophageal bulb present. Caeca lateral, reaching to anterior level of acetabulum. Testes lobate, tandem; anterior testis 0.36-0.45 mm in length, 0.45-0.54 mm in width; posterior testis 0.05-0.54 mm in length, 0.54-0.67 mm in width. Seminal vesicle coiled; pars prostatica absent. Ovary 0.31-0.45 mm by 0.45-0.58 mm. Laurer's canal not crossing excretory vesicle or duct, opening dorsally anterior to excretory pore. Vitellaria consisting of small follicles in lateral fields of discoidal region. Terminal genitalium with genital fold having dome-shaped papillae, no genital sphincter; genital pore opening at level of oesophagus.
Remarks
G. hominis has also been reported from Uttar Pradesh, Bengal, Bihar, Orissa and Assam (Mehra, 1980). The present study tallies with the observations made by Jones,(1986) in major features. However, the presence of dome-shaped papillae in the wall of the genital fold was not recorded by Jones, (1986).
Helminthological collections record
NEHU/Z - TM/19
Specimen Type
Holotype: W7777/1 in Zoological Survey of India, Kolkata.
References