Globocephalus connorfilii (Lane Lane)
---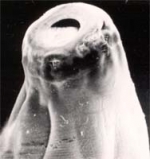 Taxonomy
Nematoda »
SECERNENTEA »
Ancylostomatidae (Looss, 1905) Lichtenfels, 1980 »
Ancylostomatinae Looss, 1905 »
Globocephalus Molin, 1861 »
Globocephalus connorfilii, Lane 1922
Host
Sus (scrofa domestica)
Habitat
Upper small intestine
Locality
Shillong (Meghalaya), Nongstoin (Meghalaya), Riangdo (Meghalaya), Sohiong (Meghalaya)
Description
General
Small-sized worms; body rather stout, curved at both ends in living worms. Cuticle with marked transverse striations. Cervical papillae verruciform, lying at level of nerve ring. Mouth directed anterodorsally. Buccal capsule deep, somewhat funnel shaped, supported anteriorly by external chitinoid ring. Pair of triangular teeth present, of variable size, arising from posterior part of ventral wall of capsule; posterior border of tooth running to extreme posterior end of capsule, fused with its wall some distance anterior to its junction with oesophagus. Oesophagus club shaped. Dorsal oesophageal gutter prominent, extending almost near collar-like area surrounding mouth.Â
Male
Body 3.8- 4.8 mm in length, 0.30-0.36 mm in maximum width. Bursa well developed, having following arrangement of rays in it - ventral ray cleft for almost all length; laterals emerging from common trunk, abruptly slender at distal end; externo-dorsal arising from trunk of dorsal ray; dorsal bifurcated at about middle, each branch terminating in three- pronged processes, of which central process is somewhat longer. Pre-bursal papillae conspicuous. Spicules slender, equal, curved dorsally at their tips, elongated. Accessory piece present.
Female
Body 4.2-7.2 mm long, 0.39-0.45 mm in maximum width. Tail tapering, pointed, bearing pair of small papillae just near its tip. Vulva not very prominent, opening slightly posterior to mid-body. Uterine branches opposed. Eggs oval, thin shelled, 0.05-0.06 x 0.03- 0.036 mm.
Remarks
Lane (1922) originally described this species based on the material collected from the small intestine of pig in Samoa. Later, Yamaguti (1961) considered this species a synonym of G. urosubulatus Allessandrinii 1909. However, Maplestone, (1930) regarded the two as distinct species.
Only three species of Globocephalus are represented in Indian swine. These are G. urosubulatus Allessandrinii 1909; G. samoensis Lane, 1922 and G. connorfilii, all recorded from domestic pigs in Calcutta by Maplestone, (1930). The nature of the buccal lancets is the only main feature to distinguish the three species from one another. In G. samoensis the buccal lancets are bicuspid, whereas in the other two these are triangular; however in G. urosubulatus the lancets reach up to the posterior part of the buccal capsule but do not do so in G. connorifilii.
Helminthological collections record
NEHU/Z - NM/9
References