Aplectana sp.
---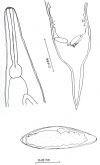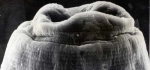 Taxonomy
Nematoda »
SECERNENTEA »
Cosmocercidae (Railliet, 1916) Travassos, 1925 »
Cosmocercinae Railliet, 1916 »
Aplectana Railliet et Henry, 1916 »
Aplectana sp.
Host
Polypedates (leucomystax), Rhacophorus (maximus (=R. nigropalmatus))
Habitat
Intestine
Locality
Mokokchung (Nagaland)
Description
Body 6.3-7.42 mm in length, 0.37-0.47 mm in maximum width of body. (The present form which is described as Aplectana sp. resembles in all morphological features described for Aplectana agubernaculum Gupta, 1960 except for variation in size of egg, tail length and body tegument). Eggs 0.12-0.13 x 0.039-0.048 mm.
Remarks
The present form herein is relegated to the genus Aplectana in having a bulbous oesophagus, prodelphic condition of uterus and vulva near middle of body.
For want of more specimens, the identification of the species is kept in abeyance.