Halipegus mehransis (Srivastava Srivastava)
---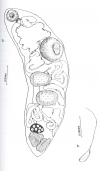 Taxonomy
Platyhelminthes »
TREMATODA »
Digenea »
Hemiuridae Lühe, 1901 »
Halipeginae Ejsmont, 1931 »
Halipegus Looss, 1899 »
Halipegus mehransis, Srivastava 1933
Synonyms
(H. mehransis minutus Srivastava, 1933; H. spindale Srivastava, 1933)
Host
Euphlyctis (cyanophlyctis)
Habitat
Intestine
Locality
Shillong (Meghalaya), Dimapur (Nagaland)
Description
Body spindle shaped, with bluntly pointed ends, tegument smooth, 4.69-5.58 mm in length, 1.24-1.39 mm in maximum width. Oral sucker sub-terminal, nearly half the size of ventral sucker.Ventral sucker situated in equatorial zone, in middle of body, large, prominent, muscular. Pharynx globular, overlapping oral sucker; oesophagus extremely short. Intestinal caeca broad, wavy with several marked constrictions, extending posteriorly even beyond vitellaria. Testes massive, oblong, extracaecal, roughly triangular in outline, situated obliquely posterior to ventral sucker, close behind anterior half of body. Vesicula seminalis flask shaped, situated slightly to right, little behind intestinal bifurcation, narrowing anteriorly to form ductus ejaculatorius, latter continuing into nipple-shaped cone or papilla. Genital pore post-bifurcal, usually median. Ovary roughly triangular, inter-caecal, post-testicular, lying just in front of left vitelline gland, close to median line. Laurer's canal present. Vitellaria in two groups, ventral to and little in front of blind extremities of intestinal caeca, one on each side, close behind ovary and Mehlis' gland, symmetrical; right vitellarium with four well-marked lobes, left with five. Receptaculum seminis uterinum present. Uterus with numerous, tranverse convolutions, extending laterally up to body wall both in front and behind ventral sucker, never extending behind Mehlis' gland mass or vitellaria, anteriorly ending of post-bifurcal zone, extra-caecal at places, opening on genital papilla very close to male opening. Eggs numerous, 0.031-0.037 x 0.011-0.014 mm in size, with long (0.02-0.032 mm) polar filament. Excretory pore terminal at posterior end of body.
Remarks
Originally this was described from the same host and habitat in Uttar Pradesh. Other locality records of H. mehransis in India include Rajasthan (Gupta, 1970), Maharashtra (Mukherjee and Ghosh, 1972), Bihar (Sinha et al., 1974) and Tamil Nadu and Kerala (Singh, 1977) with the host being Rana cyanophlyctis and/or R. tigrina. Besides these anuran amphibian hosts, the species also has been reported from a reptilian host in Andhra Pradesh (Simha, 1958).
Some more species are described in the genus Halipegus from India. Klein (1905) described H. longispina based on two specimens collected from Indian frog. According to Rankin (1944) the description of Klein was based on highly distorted specimens, all the variations falling within the range of those of H. ovocaudatus (Vulpian, 1860) Looss, 1899. He, therefore, regraded H. longispina as synonym of H. ovocaudatus, the type species of the genus. H. spindale, also described by Srivastava (1933) from the same host and locality as that of H. mehransis is rightly regarded a synonym of the latter by Rankin (1944).
Gupta and Agrawal (1967) described a new species, H. udaipurensis from R. cyanophlyctis in Rajasthan and Gupta and Chopra, (1986), H. ambalensis from the same host in Haryana. In conformity with the views of Pandey (1975), H. udaipurensis, as also H. ambalensis is regarded as synonymous with H. mehransis.Â
Helminthological collections record
NEHU/Z - TA/7
Specimen Type
Holotype: W7760/1 in Zoological Survey of India, Kolkata.
References