Kalicephalus sp.
---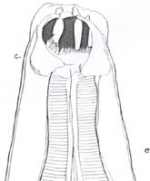 Taxonomy
Nematoda »
SECERNENTEA »
Diaphanocephalidae Travassos, 1920 »
Diaphanocephalinae Travassos, 1920 »
Kalicephalus Molin, 1861 »
Kalicephalus sp.
Host
Euphlyctis (cyanophlyctis), Polypedates (leucomystax)
Habitat
Intestine, Stomach
Locality
Dimapur (Nagaland)
Description
Stout, medium sized worms; blunt in anterior end and tapering to a blunt point at tail end. Female body 7.38-8.27 in length, 0.28-0.37 mm in maximum width. Anterior extremely with 2 lateral jaws; lips and corona radiata absent. Oesophagus muscularized, short, thick and bulbous. Vulva in anterior region of posterior half. Amphidelphic condition of uterus; oviparous. Tail short.
Remarks
The presence of 2 lateral jaws in the anterior extremity, absence of corona radiata, oesophagus with bulbous posterior and vulva closer to mid body than to anus in mature specimens and the amphidelphic condition of the specimen conforms to the genus Kalicephalus.
For want of male specimens, and also pending a comparison with the hitherto known species of the genus, the identification of the present form up to the species level is being kept in abeyance. In the occurrence of Kalicephalus sp. from amphibians of North-East India, Nagaland forms a new locality record and P. leucomystax, a new host.
Helminthological collections record
NEHU/Z - NA/