Artyfechinostomum malayanum (Railliet Railliet) Leiper 1911
---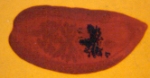 Taxonomy
Platyhelminthes »
TREMATODA »
Echinostomida »
Echinostomatidae (Looss, 1902) Poche, 1926 »
Echinostomatinae Faust, 1926 »
Artyfechinostomum Lane, 1915 »
Artyfechinostomum malayanum (Leiper 1911), Railliet 1925
Synonyms
Artyfechinostomum sufrartyfex Lane, 1915
Host
Sus (scrofa domestica)
Habitat
Intestine
Locality
Agartala (Tripura), Guwahati (Assam), Shillong (Meghalaya)
Description
Body elongated, spined throughout the surface, 5.06-10.39 mm in length, 2.16-4.38 mm in width, ratio of body width to body length 1:1.83-1:2.71. Collar spines 39, five spines in each corner group. Oral sucker rounded or oval, 0.22-0.27 mm in diameter, ratio to acetabulum 1:2.86-1:5.31. Ventral sucker post-bifurcal, 0. 63-1.22 mm in diameter, ratio to body length 1:6.38-1.10.31. Pharynx 0.27-0.31 mm in length, 0.27-0.36 mm in width; ratio to body length 1:29.77-1:35.51, to diameter of ventral sucker 1:3.77-1:4.51. Oesophagus 0.18-0.45 mm in length. Caeca wavy, reaching up to posterior end. Testes branched, post-equatorial; anterior testis 0.63-1.94 mm in length, 1.35-2.75 mm in width; posterior testis 0.54-1.80 mm in length, 1.31-2.89 mm in width. Cirrus sac small. Ovary rounded or spherical, 31-0.54 mm by 0.31-0.76 mm, close to Mehlis' gland. Uterus inter-caecal, transversely coiled between anterior testis and acetabulum. Eggs 0.113-0.135 by 0.067-0.090 mm. Vitellaria consisting of moderate-sized follicles, densely packed in lateral fields from acetabular region to posterior end, spread medially in posterior region. Genital opening pre-acetabular, post-bifurcal.
Remarks
A. malayanum has been reported from several regions in India and neighbouring countries like Myanmar (Burma) and Malayasia (Mehra , 1980). The states of Meghalaya and Tripura now form new locality records of this species in the country.
There are disputed opinions regarding the status of Echinostoma malayanum Leiper,(1911) and A. sufratyfex Lane,(1915). While many workers considered the two con-specific(Leiper ,1915; Lie, 1963; Mukherjee and Ghosh,1968;Mohandas 1971,1974; Premvati and Pandey , 1974 ,) others regard them as distinct species (Lane, 1917; Skrajabin and Baschirova, 1956). In case of their being considered con-specific, the name malayanum gets priority over sufratyfex and hence becomes the type species of the genus (Srivastava, 1982).
Premvati and Pandey (1974) regarded all Indian species described under the genus namely, A. indicum (Bhalerao, 1927) (= Testisacculus indicum Bhalerao, 1927); A. mehrai (Faruqui, 1930) Agarwal,1959; A. mehrai rattus (Jain,1953) Agarwal, 1959; A. munshii Deodhar, Kulkarni et Karyakarte, 1968; A. palustris (Chatterjee,1930) Agarwal, 1959; A. paradoxuri Baugh,1962; A. shubhrai (Agrawal, 1963) Yamaguti, (1971) as synonymous with A. malayanum. While Yamaguti (1971) retained the species indicum described from reptilian hosts under the genus Testisacculus Bhalerao, (1927), Mehra,(1980) regarded the same as a valid species under the genus Artyfechinostomum.
Helminthological collections record
NEHU/Z-TM/30
Specimen Type
Holotype: W7798/1 in Zoological Survey of India Kolkata.
References