Oesophagostomum (Proteracrum) columbianum (Railiet et Henry Railiet et Henry) Curtice 1890
---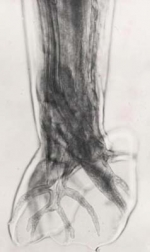 Taxonomy
Nematoda »
SECERNENTEA »
Chabertiidae (Popova, 1952) Lichtenfels, 1980 »
Oesophagostominae Railliet, 1916 »
Oesophagostomum Molin, 1861 »
Oesophagostomum (Proteracrum) columbianum (Curtice 1890), Railiet et Henry 1913
Synonyms
(Oesophagostoma colombianum Curtice, 1890)
Host
Capra (hircus), Ovis (aries)
Habitat
Large intestine, Caecum
Locality
Shillong (Meghalaya), Nongstoin (Meghalaya), Sohiong (Meghalaya), Markasa (Meghalaya)
Description
General
Anterior end curved dorsally into a hook. Cuticle forming mouth - collar in form of truncated cone separated from rest of body by constriction; cervical groove extending around ventral surface of lateral aspects of body, cuticle anterior to this groove inflated to form cephalic vesicle. Lateral alae taking origin immediately behind cervical groove, extending almost whole length of body except for little distance in caudal region; anterior extremities of lateral alae pierced by cervical papillae. Buccal capsule shallow external corona radiata consisting of 20-24 elements, internal having two small elements to each of external. Oesophagus club shaped, with oesophago-intestinal valve, encircled by nerve ring at its anterior end.
Male
Body length 12.0-15.0, maximum width 0.44-0.52 mm. Bursa well developed; of bursal rays - ventral ray cleft, medio-lateral and postero-lateral rays fused proximally, externo-dorsals arising from common trunk with dorsal, latter divided into two divergent terminal branches, each of which gives off short lateral twig. Pair of pre-bursal papillae present. Spicules equal, alate with blunt tips. Gubernaculum not distinct.
Female
Body 17.0-20.0 mm in length, 0.52-0.62 mm in maximum width. Tail tapering to fine point, bearing pair of tiny papillae just near its tip. Vulva slightly prominent, opening little anterior to anus. Vagina very short; transverse, leading into kidney -shaped vestibule of ovejectors. Eggs 0.064-0.069 x 0.02-0.04 mm, thin shelled, segmented.
Remarks
This species is ubiquitous in occurrence and has been reported from time to time from different parts of the Indian Sub-Continent (Bhalerao, 1934, 1935; Khera, 1954; Bhatia and Pande, 1961). On the basis of relatively short spicules and vagina, .and the position of cervical papillae in relation to the oesophageal expansion, it was assigned to the subgenus Proteracrum by Railliet and Henry (1913). The species has occasionally been recorded from cattle (Baylis,1936a). Except for the gubernaculum which could not be observed clearly in the male specimens all other observations tally closely with the description provided by Baylis (1936a). Meghalaya forms a new locality record for this species.
Helminthological collections record
NEHU/Z - NM/19
References