Olveria indica (Thapar et Sinha Thapar et Sinha)
---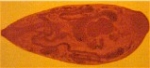 Taxonomy
Platyhelminthes »
TREMATODA »
Digenea »
Paramphistomidae Fischoeder, 1901 »
Cladorchiinae Lühe, 1909 »
Olveria Thapar et Sinha, 1945 »
Olveria indica, Thapar et Sinha 1945
Host
Bos (indicus)
Habitat
Rumen
Locality
Guwahati (Assam), Shillong (Meghalaya)
Description
Body elongated, conical, 4.79-8.40 mm in length, 2.07-3.52 mm in width, ratio of body width to body length 1:1.74-1:2.38. Acetabulum sub-terminal, 0.85-1.22 mm in external diameter; ratio to body length 1:4.59-1:6.88; of stichorchis type (sensu Näsmark, 1937) in median sagittal section; units of dorsal and ventral circular muscles on lateral sides as follows : d.e.c.m. 13-18, d.i.c.m. 22-27, v.e.c.m. 11-17, v.i.c.m. 22-29. Pharynx with two pouches, 0.49-0.85 mm in length, 0.72-0.90 mm in greatest width at the level of pouches; ratio to body length 1:9.61-10.46, to diameter of acetabulum 1:1.43-1:2.09. Oesophagus 2.26-4.06 mm in length, 'J'-shaped; anterior portion muscular, posterior portion non-muscular. Caeca with two coils, reaching up to acetabulum. Testes lobed, obliquely tandem; anterior testis 0.27-0.45 mm in length, 0.31-0.72 mm in width; posterior testis 0.27-0.49 mm in length, 0.27-0.76 mm in width. Pars prostatica moderate, pars musculosa well developed. Ovary sub-spherical, 0.22-0.54 mm by 0.13-0.27 mm, posterior to testes, close to Mehlis' gland. Vitellaria few, loose or small clusters, extending from level below pharyngeal pouches to anterior level of acetabulum. Eggs 0.099-0.135 mm by 0.054-0.072 mm. Terminal genitalium of papillogenitalis type (sensu Eduardo, 1980) in median sagittal section; genital pore at level about middle of straight arm of oesophagus.
Remarks
O. indica was originally described from cattle in the United Province (now Uttar Pradesh), India by Thapar and Sinha. (1945). This species is not amongst the commonly occurring paramphistomids of ruminant hosts. Rajkhowa (ICAR Annual Report, 1982) recorded the occurrence of O. indica in cattle from Meghalaya. Assam, as reported herein, forms a new locality record for this species.
Helminthological collections record
NEHU/Z - TM/32
Specimen Type
Holotype: W7778/1 in Zoological Society of India, Kolkata.
References