Orthocoelium dicranocoelium (Yamaguti Yamaguti) Fischoeder 1901
---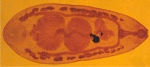 Taxonomy
Platyhelminthes »
TREMATODA »
Digenea »
Paramphistomidae Fischoeder, 1901 »
Orthocoeliinae Price et McIntosh, 1953 »
Orthocoelium (Stiles et Goldberger, 1910) Price et McIntosh, 1953 »
Orthocoelium dicranocoelium (Fischoeder 1901), Yamaguti 1971
Synonyms
(Paramphistomum dicranocoelium Fischoeder, 1901; Ceylonocotyle dicranocoelium (Fischoeder, 1901) Näsmark, 1937; C. tamilensis Gupta et Bakshi in Gupta et Nakhasi, 1977)
Host
Bos (indicus), Capra (hircus), Ovis (aries)
Habitat
Rumen
Locality
Guwahati (Assam), Moranhat (Assam), Shillong (Meghalaya), Dharmanagar (Tripura), Aizawl (Mizoram)
Description
Body elongated, conical, 4.74-5.83 mm in length, 1.58-2.09 mm in greatest width; ratio of body width to body length 1:2.58-1:3.59. Acetabulum sub-terminal, 0.72-0.85 mm in external diameter; ratio to body length 1:5.85-1:7.48; of streptocoelium type (sensu Näsmark,1937) in median sagittal section; units of circular muscles on lateral sides as follows: d.e.c.m. 10-15, d.i.c.m. 21-28, v.e.c.m. 11-18, v.i.c.m. 20-25, m.e.c.m. 4-9. Pharynx 0.49-0.76 mm in length, 0.45-0.63 mm in width; ratio to body length 1:7.48-1:10.95, to diameter of acetabulum 1:1.13-1:1.75; of dicranocoelium type (sensu Näsmark, 1937) in median sagittal section. Oesophagus 0.40-0.63 mm long, musculature of its wall forming strong muscular bulb. Caeca in lateral fields, more or less straight, reaching up to anterior level of acetabulum. Testes directly tandem; anterior testis 0.27-0.58 mm in length, 0.31-0.85 mm in width; posterior testis 0.31-0.54 mm in length, 0.31-0.99 mm in width. Seminal vesicle thin walled, coiled; pars musculosa well developed. Ovary 0.14-0.22 mm by 0.18-0.22 mm, posterior to testes, close to Mehlis' gland. Laurer's canal not crossing excretory vesicle or duct, opening on dorsal surface about 0.38-0.49 mm anterior to excretory pore. Vitellaria few, loosely arranged in lateral fields, from level of oesophageal bifurcation to level of acetabulum. Eggs 0.126-0.158 mm by 0.049-0.076 mm. Terminal genitalium of gracile type (sensu Näsmark, 1937) in median sagittal section, opening ventrally behind level of oesophageal bifurcation.
Remarks
O. dicranocoelium was recorded by Gupta and Nakhasi (1977) as occurring in Bos indicus and Bubalus bubalis in Uttar Pradesh (India). B. taurus is yet another host reported for this species (Mehra, 1980).Ceylonocotyle tamilensis Gupta et Bakhshi in Gupta and Nakhasi, 1977, described from cattle in Madras, South India, is considered a synonym of O. dicranocoelium by Eduardo (1985b). Further, the validity of yet another species C. naesmarki Mukherjee, 1963, described from sheep in Uttar Pradesh, is doubted by Eduardo who regards it as species inquirendum for want of histological details of pharynx, acetabulum and terminal genitalium.
On comparison with the description provided by Gupta and Nakhasi (1977) and Eduardo (1985b), the present observation are found to tally with these in all major details.
Helminthological collections record
NEHU/Z - TM12
Specimen Type
Holotype: W7785/1 in Zoological Survey of India, Kolkata.
References