Orthocoelium dinniki (Edurado Edurado)
---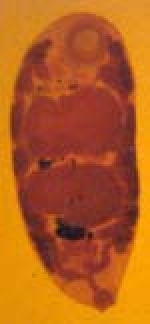 Taxonomy
Platyhelminthes »
TREMATODA »
Digenea »
Paramphistomidae Fischoeder, 1901 »
Orthocoeliinae Price et McIntosh, 1953 »
Orthocoelium (Stiles et Goldberger, 1910) Price et McIntosh, 1953 »
Orthocoelium dinniki, Edurado 1985
Synonyms
(Ceylonocotyle Näsmark, 1937; Cochinocotyle Gupta et Gupta, 1970)
Host
Bos (indicus), Capra (hircus), Ovis (aries)
Habitat
Rumen
Locality
Guwahati (Assam), Shillong (Meghalaya), Dharmanagar (Tripura)
Description
Body elongated, conical, 3.97-5.65 mm in length, 2.84-3.01 mm in greatest width; ratio of body width to body length 1:1.87-1:2.08. Acetabulum sub-terminal, 1.22-1.67 mm in external diameter; ratio to body length 1:2.11-1:3.38; of streptocoelium type (sensu Näsmark, 1937) in median sagittal section; units of circular muscles on lateral sides as follows: d.e.c.m. 11-16, d.i.c.m. 21-30, v.e.c.m. 8-12, v.i.c.m. 23-28, m.e.c.m. 5-9. Pharynx 0.45-0.63 mm in length, 0.58-0.63 mm in width; ratio to body length 1:7.01-1:9.87, to diameter of acetabulum 1:2.25-1:3.40; of calicophoron type (sensu Dinnik, 1964) in median sagittal section. Oesophagus 0.31-0.49 mm in length, musculature of its wall thickened at its posterior end to form a sphincter. Caeca lateral, more or less straight, reaching level of acetabulum with blind ends directed ventrally. Testes large, lobed, directly tandem; anterior testis 0.31-0.72 mm in length, 0.36-1.05 mm in width; posterior testis 0.31-0.76 mm in length, 0.49-1.17 mm in width. Seminal vesicle thin walled, coiled; pars musculosa well developed, convoluted; pars prostatica long. Ovary sub spherical, 0.18-0.31 mm by 0.18-0.40 mm, posterior to testes, close to Mehlis' gland. Laurer's canal not crossing excretory vesicle or duct, opening on dorsal surface about 0.27-0.67 mm anterior to excretory pore. Vitellaria in lateral fields, extending up to level of acetabulum. Eggs 0.113-0.158 mm by 0.067-0.070 mm. Terminal genitalium of papillogenitalis type (sensu Eduardo, 1980) in median sagittal section; genital pore opening ventrally at level of oesophageal bifurcation or slightly behind it.
Remarks
This is the first record of O.dinniki from Indian ruminants.
Helminthological collections record
NEHU/Z - TM/17
Specimen Type
Holotype: W77801: 7784 in Zoological Survey of India, Kolkata.