Orthocoelium orthocoelium (Price et McIntosh Price et McIntosh) Fischoeder 1901
---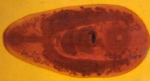 Taxonomy
Platyhelminthes »
TREMATODA »
Digenea »
Paramphistomidae Fischoeder, 1901 »
Orthocoeliinae Price et McIntosh, 1953 »
Orthocoelium (Stiles et Goldberger, 1910) Price et McIntosh, 1953 »
Orthocoelium orthocoelium (Fischoeder 1901), Price et McIntosh 1953
Synonyms
Paramphistomum orthcoelium Fischoeder, 1901; Ceylonocotyle orthocoelium Näsmark, 1937; Paramphistomum spinicephalus Tandon, 1955; Orthocoelium saccocoelium Sey, 1980
Host
Bos (indicus), Capra (hircus), Ovis (aries)
Habitat
Rumen
Locality
Shillong (Meghalaya), Aizawl (Mizoram), Silchar (Assam), Dimapur (Nagaland)
Description
Body elongated, 8.00-11.30 mm in length, 3.84-5.01 mm in width at greatest diameter, ratio of body width to body length 1:2.03-1:2.65. Acetabulum subterminal, 1.35-1.98 mm in external diameter, ratio to body length 1:5.44- 1:6.46, of streptocoelium type (sensu Näsmark, 1937) in median sagittal section; units of circular muscles on lateral sides as follows : d.e.c.m. 27-33, d.i.c.m. 31-41, v.e.c.m. 26-32, v.i.c.m. 29-36, m.e.c.m. 5-9. Pharynx 0.67-0.94 mm in length, 0.67-1.08 mm in width; ratio to body length 1:9.67-1:19.90, to diameter of acetabulum 1:1.78-1:2.69, of orthocoelium type (sensu Eduardo, 1985) in median sagittal section. Oesophagus 0.90-2.71 mm in length, musculature of its wall thickened at posterior end to form small sphincter. Caeca lateral, straight, reaching level of acetabulum or sometimes completely enclosing it. Testes lobed; anterior testis 0.99-1.80 mm in length, 1.13-1.98 mm in width; posterior testis 0.94-1.40 mm in length, 1.17-2.71 mm in width. Seminal vesicle thin walled and coiled; pars musculosa well developed, pars prostatica relatively small. Ovary 0.22-0.85 mm by 0.22-0.58 mm, posterior to testes, close to Mehlis' gland. Laurer's canal not crossing excretory vesicle or duct, opening on dorsal surface about 0.22-0.36 mm anterior to excretory pore. Vitellaria lateral, sometimes occupying intercaecal space, small, loosely scattered or small clusters extending up to posterior extremity. Eggs 0.09-0.117 mm by 0.045-0.067 mm. Genital pore opening ventrally before or at level of oesophageal bifurcation, terminal genitalium of orthocoelium type (sensu Eduardo, 1985b) in median sagittal section.
Remarks
Tandon (1955) described a species, Paramphistomum spinicephalus from the rumen of buffaloes in Lucknow (U.P., India). This species was moved to the genus Ceylonocotyle by Mukherjee (1960) and listed as C. spinicephalus by Mukherjee and Chauhan (1965), while Yamaguti (1971) listed this species tentatively under the genus Paramphistomum with its 'generic status sub judice'. However, Mehra (1980) created a new genus Paramphistomacotyle for Tandon's species. Eduardo (1985), upon re-examination of its type specimens, regarded this species as identical with Orthocoelium orthocoelium. Eduardo also considered O. saccocoelium Sey, 1980 a synonym of O. orthocoelium, thinking that Sey's description might be based on contracted specimens. Gupta and Nakhasi (1977) and Mehra (1980) recorded O. orthocoelium from bovine hosts in India. However, the present observations differ in several aspects from those provided by these authors. According to their descriptions of the species, the pharynx is of paramphistomum type and is without a lip sphincter (Mehra, 1980); the number of circular muscle units of acetabulum is quite different and the genitalium is gracile type. In most histological details the specimens under study herein tally with those given by Eduardo (1985b) for this species. Some variation with regard to the posterior extent of intestinal caeca was observed; according to Eduardo, the caeca extend up to or a little short of the acetabulum, whereas the same were found to be reaching up to the posterior border of it in some specimens.
Helminthological collections record
NEHU/Z - TM/11
Specimen Type
Holotype: W7799/1 in Zoological Survey of India, Kolkata.
References