Orthocoelium parvipapillatum (Eduardo Eduardo) Stiles et Goldberger 1910
---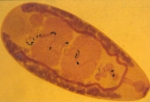 Taxonomy
Platyhelminthes »
TREMATODA »
Digenea »
Paramphistomidae Fischoeder, 1901 »
Orthocoeliinae Price et McIntosh, 1953 »
Orthocoelium (Stiles et Goldberger, 1910) Price et McIntosh, 1953 »
Orthocoelium parvipapillatum (Stiles et Goldberger 1910), Eduardo 1985
Host
Bos (indicus), Capra (hircus), Ovis (aries)
Habitat
Rumen
Locality
Silchar (Assam), Karimganj (Assam), Dharmanagar (Tripura), Agartala (Tripura)
Description
Body elongated, 5.65-8.13 mm in length, 2.89-3.34 mm in greatest width, ratio of body width to body length 1:1.89 -1:2.57. Acetabulum sub-terminal, 0.90-1.31 mm in external diameter; ratio to body length 1:5.03-1:6.66; of streptocoelium type (sensu Näsmark, 1937) in median sagittal section; units of dorsal and ventral circular muscles on lateral sides as follows : d.e.c.m. 10-14, d.i.c.m. 21-24, v.e.c.m. 11-13, v.i.c.m. 20-25. Pharynx 0.54-0.72 mm in length, 0.51-0.63 mm in width; ratio to body length 1:8.96 -1:12.20 to diameter of acetabulum 1:1.49-1:2.42; of dicranocoelium type (sensu Näsmark, 1937) in median sagittal section. Oesophagus 0.45-0.63 mm long, musculature of its wall forming a strong muscular bulb. Caeca in lateral fields, with few loose bends, reaching level of acetabulum. Testes large, rounded or spherical, tandem; anterior testis 1.03-1.67 mm in length, 1.58-2.26 mm in width; posterior testis 1.17-1.71 mm in length, 1.62-2.35 mm in width. Seminal vesicle thin walled, coiled; pars musculosa convoluted. Ovary 0.45-0.67 mm by 0.45-0.81 mm, posterior to testes, close to Mehlis' gland. Laurer's canal not crossing excretory vesicle or duct, opening on dorsal surface 0.22-0.36 mm anterior to excretory pore. Vitellaria lateral, some spreading in inter-caecal space, from oesophageal bifurcation to acetabulum. Eggs 0.090-0.158 mm by 0.058-0.090 mm. Terminal genitalium of parvipapillatum type (sensu Eduardo, 1985) in median sagittal section; genital pore opening ventrally, posterior to oesophageal bifurcation.
Remarks
Of the various Orthocoelium spp recorded from Indian ruminants, O. parvipapillatum was not reported till Eduardo (1985), on examination of Näsmark's collection marked as Ceylonocotyle scoliocoelium, listed this species as occurring in Bubalus bubalis from Punjab. Except for slight variations with regard to the morphometric measurements and the number of circular muscle units in the acetabulum, the present observations are in conformity with those of Eduardo (1985b).
Helminthological collections record
NEHU/Z - TM/16
Specimen Type
Holotype: W7781/1; 7800/1 in Zoological survey of India, Kolkata.
References