Oxysomatium macintoshii (Karve Karve) Stewart 1914
---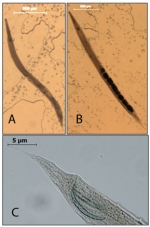 Taxonomy
Nematoda »
SECERNENTEA »
Cosmocercidae (Railliet, 1916) Travassos, 1925 »
Cosmocercinae Railliet, 1916 »
Oxysomatium Railliet et Henry, 1916 »
Oxysomatium macintoshii (Stewart 1914), Karve 1927
Host
Euphlyctis (cyanophlyctis), Hyla (annectans), Philautus (annandallii), Polypedates (leucomystax), Rhacophorus (gongshanensis)
Habitat
Intestine
Locality
Kohima (Nagaland), Mokokchung (Nagaland), Zunheboto (Nagaland), Balphakram (Meghalaya)
Description
Small or medium-sized worms; cuticular striations present. Head retractile. Mouth with three simple inconspicous lips. Oesophagus long containing buccal cavity with three tooth-like structures and clearly separated sub-globular bulb with definite valvular apparatus. Intestinal diverticulum absent. Lateral alae absent.
Male
Body 1.84-2.26 mm in length, 0.07-0.108 mm in maximum width. Spicules two, sub-equal, relatively long; accessory piece indistinguishable. Tail abruptly tapering to sharp point behind anus; caudal alae absent. Fairly numerous sessile pre-anal and post-anal papillae present; post-anal papillae 18 pairs, 8 sub-dorsal, 10 sub-ventral; pre-anal papillae 9 pairs, 3 forming sub-ventral group surrounding cloaca with 2 anterior most pairs of post-anal papillae, 6 forming sub-lateral row on each side of body.
< p>
Female
Body 2.232-3.09 mm in length, 0.10-0.19 mm in maximum width. Ovaries two, short, producing relatively few large eggs Vulva at about middle of body or somewhat behind it . Vagina running anteriorly for a short distance, branching into two uterine branches (amphidelphic condition). Eggs large, irregular, asymmetrical, 0.124-0.202 x 0.078-0.155 mm. Viviparous condition. Tail elongated, tapering to a point.
Remarks
Originally described by Stewart,(1914) from Bufo stomaticus and Rana tigrina from Uttar Pradesh, this species has also been reported from B. melanostictus and the Indian painted frog, Kaloula pulchra taprobanica in West Bengal (Soota and Chaturvedi, 1971) and R. tigrina in Bihar (Soota and Dey Sarkar, 1981). Besides India, this species also occurs in Burma (Karve,1927) and Africa (Baylis, 1936a).
Helminthological collections record
NEHU/Z - NA/2
Specimen Type
Holotype: W7766/1 (male); W7767/1 (female) in Zoological survey of India, Kolkata.
References