Paramphistomum gracile (Fischoeder Fischoeder)
---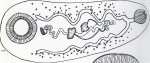 Taxonomy
Platyhelminthes »
TREMATODA »
Digenea »
Paramphistomidae Fischoeder, 1901 »
Paramphistominae Fiscoeder, 1901 »
Paramphistomum Fischoeder, 1901 »
Paramphistomum gracile, Fischoeder 1901
Synonyms
{Paramphistommum indicum Stiles et Goldberger, 1910 in part; P.bombayiensis Gupta et Verma in Gupta et Nakhasi, 1977; P. ichikawai of Gupta et Nakhasi (1977))}
Host
Bos (indicus)
Habitat
Rumen
Locality
Dharmanagar (Tripura)
Description
Body elongated, curved ventrally, 5.42-7.05 mm in length, 2.46-2.98 mm in greatest width; ratio of body width to body length 1:2.16-1:2.60. Acetabulum sub-terminal, 0.63-1.17 mm in external diameter, ratio to body length 1:6.02-1:8.6; of paramphistomum type (sensu Näsmark, 1937); units of circular muscles on lateral sides as follows: d.e.c.m.1. 11-18, d.e.c.m.2 18-28; d.i.c.m. 30-41, v.e.c.m. 13-20, v.i.c.m. 41-50, m.e.c.m. 6-10. Pharynx 0.58-0.72 mm in length, 0.51-0.58 mm in breadth; ratio to body length 1:9.34-1:11.19, to diameter of acetabulum 1:1.08-1:1.85; of calicophoron type (sensu Dinnik, 1964) in median sagittal section; internal surface with small dome-shaped papillae. Oesophagus 0.40-0.58 mm long, ratio to body length 1:10.87-1:13.55. Caeca lateral, wavy in their course, reaching up to middle of acetabulum, terminating ventrally. Testes tandem, inter-caecal; anterior testis 0.90-1.13 mm in length, 0.99-1.44 mm in width; posterior testis 0.90-1.26 in length, 1.17-1.71 mm in width. Seminal vesicle thin walled; pars musculosa weakly developed. Ovary 0.31-0.49 by 0.40-0.63 mm, post-testicular; Mehlis' gland close to ovary; Laurer's canal crossing excretory vesicle or duct, opening on dorsal surface posterior to excretory pore. Vitellaria consisting of few loose or small clusters of vitelline glands in lateral fields, extending from level of pharynx to posterior region of acetabulum. Eggs 0.113-0.135 by 0.063-0.072 mm. Genital pore ventral, at level little behind oesophageal bifurcation; terminal genitalium of gracile type (sensu Näsmark, 1937) in median sagittal section.
Remarks
Stiles and Goldberger, (1910) described a species, Paramphistomum indicum, from Indian ruminants. While Maplestone (1923) suggested it to be a synonym of P. cervi (Zeder, 1790) Fischoeder, 1901 -a view also held by Travassos (1934) and Dawes (1936), Näsmark (1937) regarded it as synonymous with P. gracile and Skrjabin (1949), with Cotylophoron indicum Stiles and Goldberger 1910. Eduardo,(1982b) re-examined the type specimens of P. indicum deposited by Stiles and Goldberger in the United States National Parasite collection and found most of these to be identical with P. gracile and some, with P. epiclitum. Hence, Eduardo regarded P. indicum as synonymous in part with P. gracile.
The species P. bombayiensis, described as new by Gupta and Verma (in Gupta and Nakhasi, 1977) from cows and buffaloes in India, is also considered a synonym of P. gracile by Eduardo,(1982b). Further, Sey obtained many specimens labelled as P. cervi from several institutions in India and on thorough examination of these, Sey (1979a) found majority of them to be P. gracile, and a few P. epiclitum.
In view of the foregoing, it is evident that P. gracile (which incidently was described for the first time from a collection from Ceylon, by Fischoeder) is a commonly occurring paramphistomid species in the Indian subcontinent. However, its occurrence is being reported for the first time from North-East India.
Helminthological collections record
NEHU/Z - TM/6
Specimen Type
Holotype: W7796/1 in Zoological Survey of India, Kolkata.
References