Pleurogenoides gastroporus (Travassos Travassos) LÃhe 1901
---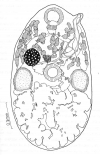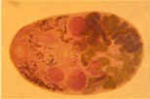 Taxonomy
Platyhelminthes »
TREMATODA »
Digenea »
Lecithodendridae (Lühe, 1901) Odhner, 1911 »
Pleurogeninae Travassos, 1921 »
Pleurogenoides Travassos, 1921 »
Pleurogenoides gastroporus (LÃhe 1901), Travassos 1921
Synonyms
Pleurogenes gastroporus LÃhe, 1901; P. (Pleurogenes) gastroporus (LÃhe, 1901) Mehra et Negi, 1928; P. (Pleurogenes) gastoporus var. equalis Mehra et Negi; 1928; Pleurogenes orientalis Srivastava, 1934, Pleurogenes sawanensis Gupta, 1954.
Host
Amolops (marmoratus (A. afghanus)), Euphlyctis (cyanophlyctis), Haplobatrachus (crassus), Hoplobatrachus (tigerinus), Rana (khare), Rana (danieli), Xenophrys (wuliangshanensis)
Habitat
Intestine
Locality
Shillong (Meghalaya), Laitkor (Meghalaya), Mokokchung (Nagaland), Dimapur (Nagaland)
Description
Body elliptical, with rounded anterior and posterior ends, 1.406- 2.113 in length, 0.775-1.147 mm in maximum width at level of testes; surface armed with dense spines anteriorly which disappear toward posterior end of body. Oral sucker sub-terminal and spherical. Ventral sucker almost equatorial, slightly smaller than oral. Pre-pharynx absent; pharynx oval, muscular; oesophagus indistinct, very short if discernible. Intestinal caeca extending up to level of anterior margin of testes. Testes round or oval, equal, situated laterally on each side of body. Cirrus sac well developed, S-shaped, recurved, lying on right side of body extending from near anterior margin of ventral sucker up to middle o f oral sucker, enclosing saccular vesicular seminalis, tubular pars prostatica and long narrow ejaculatory duct. Genital pore situated on left side of, and at varying levels with, oral sucker, directly on body margin or on small papilla; male and female pores opening into genital atrium. Ovary round or slightly oval, pre-testicular, pre-acetabular, situated anterior to left testis and smaller than it. Receptaculum seminis irregularly shaped, located just lateral to ventral sucker on left side, slightly behind ovary. Vitellaria consisting of moderately large follicles extending from level of oral sucker or pharynx till termination of caeca, scattered in intercaecal as well as extracaecal fields. Uterus post-acetabular, post-testicular, occupying entire area up to hind region of body, forming numerous ascending and descending coils; terminal part parallel to cirrus sac before reaching genital pore; metraterm absent. Eggs ovoid, numerous, 0.0190.022 x 0.009- 0.015 mm..
Remarks
Originally described from Rana tigrina(=Hoplobatrachu tigerinus) in Uttar Pradesh by Mehra and Negi (1928), this species has since been recorded from Rana tigrina and/or E. cyanophlvctis from several localities in India such as Rajasthan (Gupta, 1970), Uttar Pradesh, West Bengal and Maharashtra (Mukherjee and Ghosh, 1970b, 1972), Tamil Nadu (Singh, 1977) and Orissa (Hafeezullah and Dutta, 1981). Though represented in frogs, this species is also reported from a reptilian host in Andhra Pradesh (Simha, 1958).
As revealed by a survey of the available literature, the validity of the genus Pleurogenoides (Lühe, 1901) Travassos, 1921 as against Pleurogenes Loss,1896 has been disputed by several authors (Srivastava, 1934; Gupta and Agrawal, 1966; Kakaji. 1968). However in concurrence with the opinion of workers like Dawes, (1946), Yamaguti ( 1958) and others, as reviewed by Skrjabin (1970) and as reiterated by Mukherjee and Ghosh, (1970a) the genus Pleurogenoides is regarded herewith as having independent status. Further, in conformity with the views of Mukherjee and Ghosh (1970a) and Hafeezullah and Dutta (1981) and also in view of the variations observed in the present study regarding the absence or presence of oesophagus, the extent of vitellaria and the level of genital pore, Pleurogenes orientalis Srivastava 1934 and P. sawanensis Gupta ,1954 are considered synonyms with P. gastroporus. In this context, the erection of a new genus Indopleurogenes by Yamaguti (1971) for P. orientalis seems untenable. Thus, as suggested by Hafeezulla and Dutta (1981), the genus Indopleurogenes Yamaguti, 1971 is synonymous with Pleurogenoides.
Mokokchung and Dimapur (Nagaland) are new locality record for Pleurogenoides gastroporusRana khare, Rana danielii, Amolops marmoratus (=A. afghanus), H. crassus, Xenophrys wuliangshanensis (=Megophrys wuliangshanensis), Philautus sp., Polypedates leucomystax.are also new host records for this species.
Helminthological collections record
NEHU/Z - TA/2
Specimen Type
Holotype: W7758/1 in Zoological Survey of India, Kolkata.
References