Pseudocruzia orientalis (Wolfgang Wolfgang) Maplestone 1930
---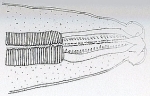 Taxonomy
Nematoda »
SECERNENTEA »
Kathalanidae (Lane, 1914) Travassos, 1918 »
Cruziinae (Travassos, 1917) Ortlepp, 1924 »
Pseudocruzia Wolfgang, 1953 »
Pseudocruzia orientalis (Maplestone 1930), Wolfgang 1953
Synonyms
(Cruzia orientalis Maplestone 1930b)
Host
Sus (scrofa domestica)
Habitat
Caecum
Locality
Shillong (Meghalaya), Nongstoin (Meghalaya)
Description
Medium-sized worms, body thicker in middle, tapering towards either ends. Cephalic extremity separated from rest of body by marked constriction. Head with three sub-triangular lips separated from one another by subsidiary lobes; lips possessing widely inflated cuticle, double papilliform processes on inner surface at mouth opening, dorsal lip at very prominent lateral angles, ventro-lateral lip marked off from body by deep groove. Pharynx three sided, with narrow lumen, strongly chitinized, armed with three rows of about twenty two denticles projecting at right angles into lumen; teeth of same size.
Oesophagus with large spherical bulb and small pre-bulbar swelling; bulb not constricted off from corpus. Intestine with anteriorly directed diverticulum.
Male
Body 15 mm in length, 0.72 mm in width. Tail conical, caudal alae very small. Ventral surface of pre-anal region rugose. Caudal muscles well developed, form oblique bundles, not aggregated into sucker-like organ. Ten pairs of sessile caudal papillae present-four pairs post-anal, three pairs adanal, three pairs situated in pre-anal region. Spicules equal, alate. Large sub-triangular gubernaculum present.
Female
Body 16.2-18 mm in length, 0.72- 0.84 mm in maximum width. Tail tapering gradually to point. Vulva not very prominent, situated slightly in front of middle of body. Uteri opposed. Eggs relatively large, 0.10-0.11 x 0.05-0.06 mm, with thick rugose shell.
Remarks
Originally described as Cruzia orientalis by Maplestone,(1930) from pigs in Calcutta, this species was accommodated in Family Kathlaniidae Travassos, 1918 by Baylis (1936a). Later on, it was placed in a new genus Pseudocruzia erected by Wolfgang (1953) and classified under family CruziidaeYorke et Maplestone,1926 by Yamaguti,(1961). Wolfgang justified the erection of a new genus on the basis of the peculiar cephalic structures and the oesophageal bulb constriction and also suggested that further investigation may establish a reptilian host for Pseudocruzia and show that it is a pseudoparasite for pigs. Chabaud (1978) assigned the genus to the sub-family Cruziinae under family Kathlaniidae.
Following Maplestone's record of 1930, there has been hitherto no report of the occurrence of P. orientalis in suids elsewhere in India or abroad.
Helminthological collections record
NEHU/Z - NM/4
References