Rhabdias ranae (Walton Walton)
---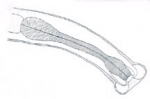 Taxonomy
Nematoda »
SECERNENTEA »
Rhabdiasidae Railliet, 1916 »
Rhabdias Stiles et Hassall, 1905 »
Rhabdias ranae, Walton 1929
Host
Amolops (marmoratus (A. afghanus)), Euphlyctis (cyanophlyctis), Hyla (annectans), Limnonectes (limnocharis), Philautus (sp.), Polypedates (taraiensis), Polypedates (leucomystax), Rana (khare), Rana (Sp.), Rana (danielii), Rhacophorus (maximus (=R. nigropalmatus)), Rhacophorus (bipunctatus(=R. reinwardtii)), Rhacophorus (gongshanensis), Theloderma (sp.), Xenophrys (glandulosa), Xenophrys (wuliangshanensis)
Habitat
Lungs
Locality
Cherrapunjee (Meghalaya), Balphakram (Meghalaya), Dawki (Meghalaya), Mawsynram (Meghalaya), Umtyngar (Meghalaya), Smit (Meghalaya), Shillong (Meghalaya), Dimapur (Nagaland), Kohima (Nagaland), Mokokchung (Nagaland)
Description
Parasitic generation comprising of female only. Small-sized worms, 4.79-7.48 mm in length, 0.14-0.248 mm in maximum width, body slender, roughly flattened anteriorly, bluntly pointed posteriorly. Cuticle thin, with fine transverse striations. Cervical alae prominent. Mouth surrounded by six, small lips; corona radiata on lateral lips; papillae absent. Buccal cavity short, with club-shaped swelling posteriorly. Oesophagus elongated, cylindrical, entirely muscular, with pyriform posterior bulb; oesophageal, entirely muscular, with pyriform posterior bulb; oesophageal bulb without scleotized apparatus. Dark-coloured intestine opening by cuticularized rectum to anus; cervical glands one pair, opening in front of posterior end of oesophagus, extending posteriorly along intestine; rectal glands three in number. Nerve ring at anterior extremity. Ovaries two, reflexed. Vulva in posterior half of body, opening directly into uterus; latter amphidelphic. Eggs small, elliptical, numerous, containing embryos, 0.066-0.078 x 0.033-0.050 mm. Tail conical, tapering gradually to a point; caudal alae prominent.
Remarks
Rhabdias ranae was first report from North-East India by Diengdoh (1989) from various localities of Meghalaya and some new hosts species were also recorded .
Gupta (1960) recorded this species from Rana tigrina in the erstwhile East Pakistan (now Bangladesh). In the Indian subcontinent, another species of the genus, R. escheri Baer, 1930 has been reported from a caecilian, Uraeotyphlus oxyurus.
Helminthological collections record
NEHU/Z - NA/1
Specimen Type
Holotype: W7765/1
References