Strongyloides sp.
---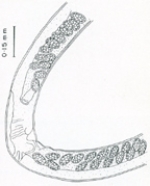 Taxonomy
Nematoda »
SECERNENTEA »
Strongyloididae Chitwood et McIntosh, 1934 »
Strongyloides Grassi, 1879 »
Strongyloides sp.
Synonyms
(Sclerostomum renium Drabble, 1922)
Host
Gallus (gallus domesticus)
Habitat
Intestinal caecum
Locality
Shillong (Meghalaya)
Description
Body slender, attenuated anteriorly, 9.0 mm long. Buccal capsule reduced, without teeth. Oesophagus cylindrical with swelling at posterior end, 0.30mm long. Tail tapering to point, 0.14 long mm, 0.04 mm in width. Vulva situated at 5.50 mm from anterior end of body, opening directly into uterine branches; latter opposed. Eggs few, relatively large, oval, thin shelled, segmented, 0.05-0.06 mm in length; 0.025-0.03 mm in width.
Remarks
On the basis of a short buccal capsule, a markedly elongated and slender oesophagus without a distinct posterior bulb, short and conical tail and characteristic position of the vulva (i.e., posterior half of the body) the specimen was identified as belonging to the genus Strongyloides. Only one species, i.e., Strongyloides avium is known to represent the genus in fowl (Soulsby, 1982). The specimen under observation differs markedly from S. avium in respect of the length of the body and oesophagus, which is 2.2 and 0.7 mm, respectively, in the latter species.
Helminthological collections record
NEHU/Z - NB/
References