Capillaria hepatica (Travassos Travassos) Bancroft 1894
---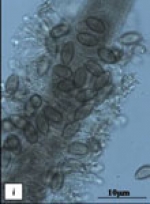 Taxonomy
Nematoda »
ADENOPHOREA »
Trichuridae (Ransom, 1911) Railliet, 1915 »
Capillarinae Railliet, 1915 »
Capillaria Zeder, 1800 »
Capillaria hepatica (Bancroft 1894), Travassos 1915
Host
Berylmys (bowersi), Berylmys (mackenziei), Mus (musculus), Niviventer (fulvescens), Ratus (nitidus), Ratus (ratus)
Habitat
Liver
Locality
Darlawn (Mizoram), Hlimen (Mizoram), Lungleng (Mizoram), Khawzawl (Mizoram)
Description
Yellowish patches as the worm deposits masses of eggs on the liver surface. Body very slender; Oesophagus with stichocytes; well developed ventral and bacillary bands; sometimes eggs only indication of infection; worms disappear after oviposition; eggs with bipolar plugs, outer layer of shell traversed by numerous rod like structure giving radially-striated appearance, measuring 0.046-0.05× 0.024-0.028 in size.
Female: Vulva right behind oesophagus, provided with protrusible, membranous funnel like structure.
Male: Posterior extremity of male blunt, without alae; pair of subventral lobes behind cloacal aperture and papilla at the base of lobe; well developed chitinized spicule, spicule sheath membranous and protrusible without spines.
Remarks
C. hepatica is a cosmopolitan parasite, which is commonly found in the liver of rodents. Owing to its body being very slender and tightly entangled in the liver tissue, recovery of the whole worm is mostly difficult. In India it has been reported from several parts of the country by various workers eg. Raja (1974), Niphadkar and Sardeshpande (1978), Naidu and Thakare (1980), Somvanshi et al. (1995), Chahota et al. (1997) and Bhattacharya et al. (1998). Raut et al. (2003) reported this parasite among bandicoot rats, Bandicota indica and Patel et al. (2004) and Bhattacharya et al. (2005), among the rats in Pondicherry.
The present study gives the first report from Mizoram, Northeast India and R. nitidus, B. mackenziei, B. bowersi, N. fulvescens are new hosts reported for C. hepatica.
Helminthological collections record
NEHU/Z - NM (Rat)2
References